The Christmas has came with the cold weather. Although it's a western holiday, many Chinese enjoy it and would celebrate this holiday. During my college, we send apples to our friends in Christmas Eve and have a Christmas party with our classmate and teachers. We learn the Christmas song from our foreign language teacher.I still remember the song, We wish your merry Christmas,… We wish you Merry Christmas and happy new year.
This year, I spend the Christmas with our Chinatungsten colleague.We have a big western dinner at Hanns' home, our cutely colleague prepared the salad, Hanns cooked delicious soup, roasted the turkey and made the hamburger. We prepared the gifts to other and got own gift from our Christmas father.And Hanns prepared the gifts and apples for every one,it's so sweety.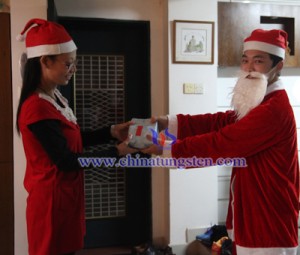 We had a good night at Hanns' home and fully laden with riches.Merry Christmas and happy new year yo everyone.